COVID-19 Safety at KP Travels
As the COVID-19 pandemic continues to affect the world, people are looking for safe and convenient ways to travel. KP Travels, a travels services / car rental company in Pune, has taken several measures to ensure the safety of their customers and staff during these times.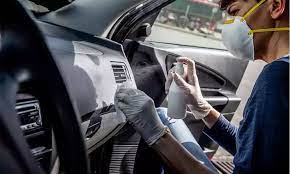 Here are some of the safety measures taken by KP Travels:
Sanitization of Vehicles: KP Travels ensures that all of their rental vehicles are thoroughly sanitized before and after each rental. This includes cleaning and disinfecting high-touch areas such as steering wheels, door handles, and seats.
Availability of Vaccinated Drivers: KP Travels has made available drivers who have received their COVID-19 vaccinations. This provides an extra layer of safety for customers who may not feel comfortable driving themselves or who require a driver for their rental.
Contactless Pick-Up and Drop-Off: KP Travels Company in Pune has implemented a contactless pick-up and drop-off system to minimize physical contact between staff and customers.
Staff Health and Safety Measures: KP Travels has implemented health and safety measures for their staff, including regular temperature checks and providing personal protective equipment such as masks and gloves.
Is it safe to hire a car during Coronavirus with us in Pune?
Hiring a car from KP Travels can be a safe and convenient option during the COVID-19 pandemic, especially with the safety measures they have put in place. By opting for a rental car, Pune To Mumbai Cabs and Airport cab customers can minimize their contact with others and have control over their own transportation.
KP Travels in Pune has taken several safety measures to ensure the safety of their customers and staff during the COVID-19 pandemic. With their sanitized vehicles, availability of vaccinated drivers, contactless pick-up and drop-off, and staff health and safety measures, customers can feel confident in renting a car from KP Travels.