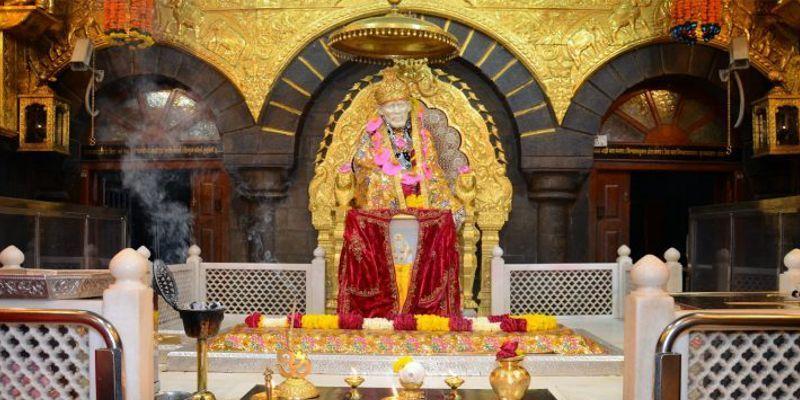 Are you looking for Pune to Shirdi Cab? Then you are in the right place. KP travels offer Pune to Shirdi cabs at affordable price. We offer well sanitised Pune to Shirdi cab at No Extra cost. You can hire a cab from Pune for Shirdi at any time. Get the best deal on Pune to Shirdi round trip. Select from a variety of types likes Sedan, SUV, or other luxury cars for travel Shirdi from Pune. KP Travels also offer customizable Shirdi tour packages from Pune.
We are leading car rental service provider in Pune. Our drivers ensure a comfortable travel experience in Pune to Shirdi Tour. Book Pune to Shirdi tour from KP Travels for a safe journey.
Pune to Shirdi Cab Fare
| | | | |
| --- | --- | --- | --- |
| Car type | Car Model | Capacity | Round Trip Cab Fare |
| Ac Sedan cab | Etos | 4 Passenger | Rs.4800 |
| Ac Sedan cab | Xcent | 4 Passenger | Rs.4800 |
| Ac Sedan cab | Dzire | 4 Passenger | Rs.4800 |
| Ac SUV cab | Ertiga | 6 Passenger | Rs.5500 |
| Ac SUV cab | Marazzo | 6 Passenger | Rs.5800 |
| Ac SUV cab | Xylo | 6 Passenger | Rs.5800 |
| Ac SUV cab | Innova | 6 Passenger | Rs.6500 |
| Ac SUV cab | Innova Crysta | 6 Passenger | Rs.6800 |
Pune to Shirdi Cab Fare table
Book Pune Airport to Shirdi Cab
Book Pune Airport to Shirdi Cab at KP Travels for one way or round trip. Premium Sedan or SUV Cabs are Available from Pune Airport to reach Shirdi.
Booking a last-minute cab From an Airport is always going to be expensive and Time-Consuming. So Pre-Book your Pune Airport to Shirdi Cab to Avoid Last-Minute rush and your precious time. Our Pune Airport to Shirdi taxi fare is starting from Rs.4800.One way or round trip service from Pune Airport is also available.
Why Choose KP For Pune to Shirdi cab Service?
Private Car or Taxi/Cab is one of the best modes of transportation to travel from Pune to Shirdi. KP Travels offer an Online Pune to Shirdi Cab at Affordable Price. the time taken to reach Shirdi from Pune is approximately 4-5 hours with our cab.
There are many outstation taxi services that you can book either offline or online. Best is a relative term and it depends on what you prefer as a traveler. Most travelers prefer comfort, quality service at a reasonable price. KP travels provides all these things in Pune to Shirdi cab Service. We Also Provide Pune Airport to Shirdi Cab Service.
Facilities Provided by our Pune Shirdi Cab Service.
Clean, Sanitized, and well-Maintained Car at No Extra Cost.
Medically Fit and Verified Drivers.
FREE Pick-up and Drop.
Price Transparency – No Hidden Charges.
Zero Cancellation Fee.
Pune To Shirdi Tour Packages
KP Travels offer customized Shirdi tour package from Pune that helps you to do things in your way. Our Basic Pune to Shirdi tour packages started from Rs.4800.
Tour Package Name
One Day Pune To Shirdi tour Package
Car Package Price

Rs. 4,800/- (for 4 Tourist)

Rs. 5,500 to Rs.6,800 (for 6 Tourist)

Inclusion
Toll and Parking
Places covered in Pune to Shirdi tour packages
Sai Baba Temple,Chawadi,Dwarkamai,Mahaganapati Temple,Shani Shinganapur
Available cars

Individual Ac Sedan cab ( 4 seater )-Toyota Etos, Dzire, Hyundai Xcent or Similar cab

Individual Ac Suv cab ( 6 seater )-Mahindra Marazzo, Ertiga, Mahindra Xylo,Innova Crysta or Similar Cab

Duration of Shirdi tour
One Day Return
Pick up Point
Home OR your convenient location(within Pune city limits)
Drop Point
Home OR your convenient location(within Pune city limits)



We respect and understand Sai Bhakta's needs and preferences, We offer customized tours and travel packages which an option to create and design their Pune to Shirdi Tour. You can customize your Shirdi tour accordingly to itineraries, number of persons, number of days. You can book a one-day tour package from Pune to Shirdi.
About Shirdi
Pune to Shirdi distance by cab is around 186 Km. if you are travelling from Pune Airport, then the distance of Pune airport to Shirdi by Taxi is 192 Km. The fame of Sai Baba of Shirdi is very far away and this holy religious place is located in Ahmednagar district of Maharashtra. This is Sai's land where Sai obliterates people with his miracles. Sai's life was spent in Shirdi where he did public welfare works.
This world-famous holy place has been experienced by millions of devoted devotees over the centuries. The center of spiritual attraction of Shirdi is the holy saint Sai Baba. It is seen that Sai Baba lived in this place till 1917. Sai had taken his tomb to this place. 28,000 devotees are visiting Baba here every day, and during festivals and holidays, more than 500,000 devotees visit this holy place.
The locals in Shirdi use Marathi language to speak, which is their mother tongue. But everyone can speak and understand Hindi and English languages.
Pune to Shirdi taxi can be easily booked for a day or two for Shirdi Darshan and sightseeing in the nearby places. The journey is a beautiful long drive through nature. the most desired break from the city's traffic and concrete jungle. Due to excellent road conditions, booking a cab for travelling is the most preferred transportation means for family fun. On the way, there are various Restaurants, ATMs, hospitals and petrol pumps for emergency services.
Sightseeing Included in Pune to Shirdi Cab Service and Tour Package:
The several well-known places to visit in Shirdi are the Sai Baba Mandir, Sai Baba Samadhi, Khandoba Mandir, Trimbakeshwar, and Shani Shingnapur. Just book a taxi online. Hire an Online Car from Pune to Shirdi and avail the most suitable options for you and your family. Rest back in the car seats and relax to enjoy your journey.
Places to Visit in Shirdi
Some places to visit in Shirdi and Shani Shingnapur.
• Sai Baba Chavadi –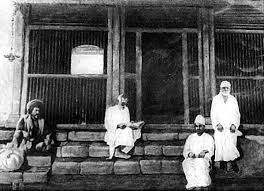 Sai Baba spent countless precious moments of the last decade of his life at the Chavadi. Chavadi is traditionally a village meeting place. Sai Baba used to sleep here on nights during the last moments of his life.

• Dwarakamai –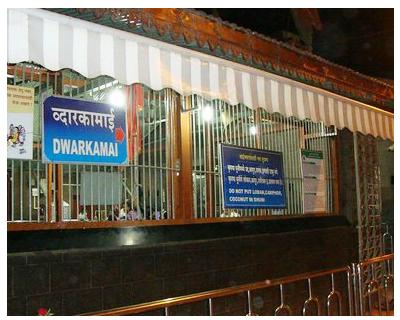 Dwarkamai is considered to be the heart of Shirdi. Dwarkamai temple is 300 meters away from the Sai Baba temple at Pimplewadi Road, Rahata. Dwarakamai is the place where the great Sai Baba has spent an important part of his life, including his last moments.
• Gurusthan –
Gurusthan is located in Kopargaon which is about 14 km from the main town of Shirdi. Gurusthan in Shirdi is the place where Sai Baba was known to the world at the age of 16.
• Sai Baba Mandir –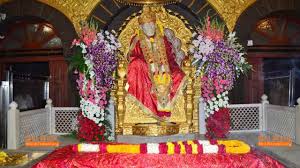 Built-in 1922, Sai Baba Temple was constructed over the samadhi of Sai Baba and is visited every year by countless Sai devotees.
This is the ancient temple of Sai Baba called Shri Sai Baba Sanstha Temple. It is believed that Sai Baba has unprecedented power and is worshiped as Lord incarnate in the Sri Sai Baba Institute. The temple complex is spread over an area of ​​about 200 square meters and is in the village of Shirdi.
Shirdi is an important center of devotees from all over the world and is visited by an average of 60,000 devotees every day. On festivals and certain special occasions, the number increases to 500,000 devotees per day.
• Khandoba Mandir –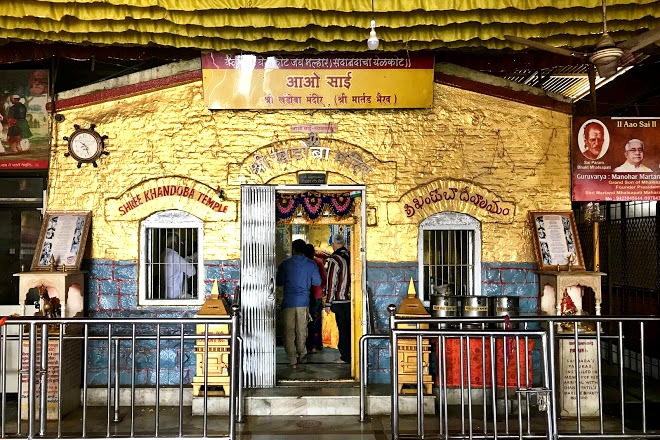 The Khandoba temple is located on the main road with the icons of Khandoba, Banai, and Mhalsai.
• Prasadalay –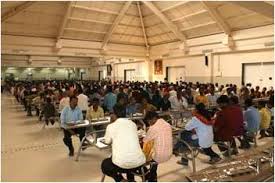 Asia's biggest prasadalaya, a dining hall with a seating capacity of 5500. Sai's kitchen, One of the largest kitchens in the world, it is located a short distance from the temple of Shirdi Sai. This kitchen, known as Sai Prasadalaya, feeds about 60 thousand people daily. It has facilities to feed around 3500 people at a time.
• Shirdi Sai Museum –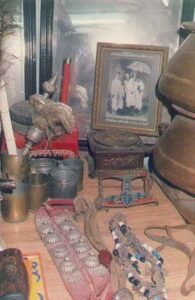 Sai Museum is a collection of various items related to Sai. This museum is run under the supervision of Saibaba Sansthan and many personal items related to Sai are kept here for the devotees to see. Sai's Paduka, Sai's coins given to the priest of Khandoba, utensils used to feed the people in the group, the grinding mill used by Sai are among the items kept in this museum for people.
• Shani Shingnapur –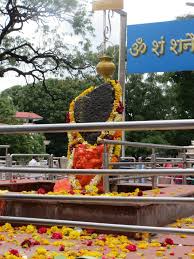 Shani Shingnapur is a village Situated in Nevasa taluka in Ahmednagar district, the village is known for its popular temple of Shani. The car Distance between Shirdi And Shani Shingnapur is about 72Km.
checkout our popular Ashtavinayak tour package from Pune.
Frequently Asked Questions
How to reach Shirdi from Pune?
You Can Travel by Train, ST Buses, or Private Cars to reach Shirdi. Hiring a Cab for Pune to Shirdi Traveling is the best option.
What is the best time to visit Shirdi?
There is no specific time to visit Shirdi. But You can plan your journey accordingly to avoid the rush and Proper Sai Darshan.